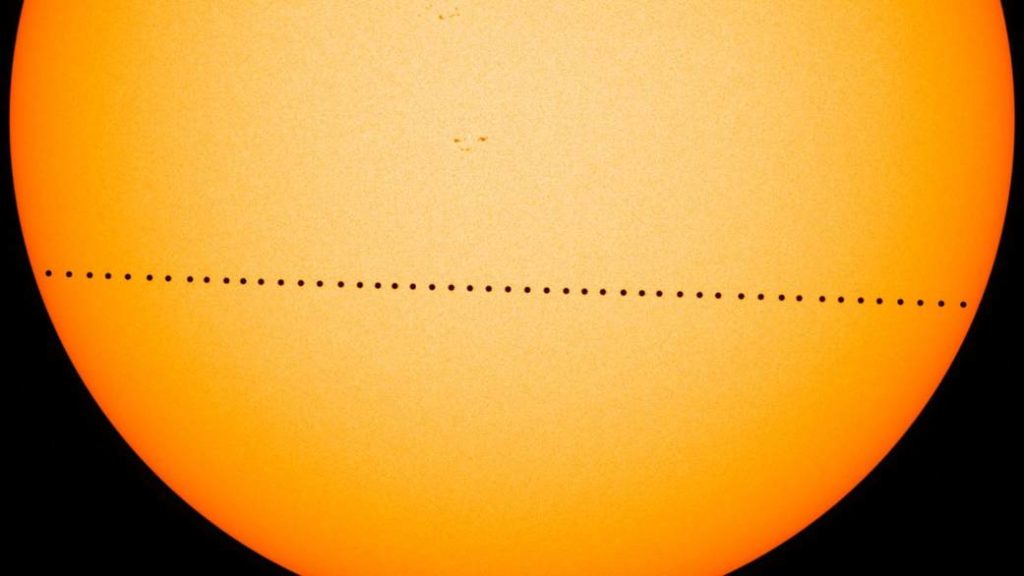 A celestial event that will occur merely 14 times throughout the entire 21st century; it is now time for Mercury's transit in front of our Sun. From the Earth's perspective, only the transits of Mercury & Venus can be viewed. On May 9th 2016, Mercury could be seen as a minuscule black dot sailing in front of the Sun's magnificent inferno.
Centuries ago, it was the observation and analysis of the transit of Mercury (and Venus) that led astronomers to estimate astronomical distances. This was done by making use of the parallax effect. Astronomers would observe the transits from different geographical locations on Earth and precisely record the start and end of the transit. Thereby, the first estimates of the distance from the Earth to the Sun (1 AU) and other celestial bodies were made. Following this was the realization that we live in an ever-expanding universe.
Understanding a transit as how it appears from the Earth enables astronomers to study distant exoplanets navigating across their stars. This can lead to the discovery of many new exoplanets when a tiny amount of starlight is blocked by the planets' transit. Lastly, for closer planets, such a transit event can also be beneficial in understanding a planet's exosphere by studying the sunlight that passes through it.
Although radar measurements have replaced the "vintage" transit technique of measuring distances, it is important to understand and appreciate the classic astronomical concepts that have paved the way for modern astrophysics.
– Mannat Kaur
Discovery News/NASA