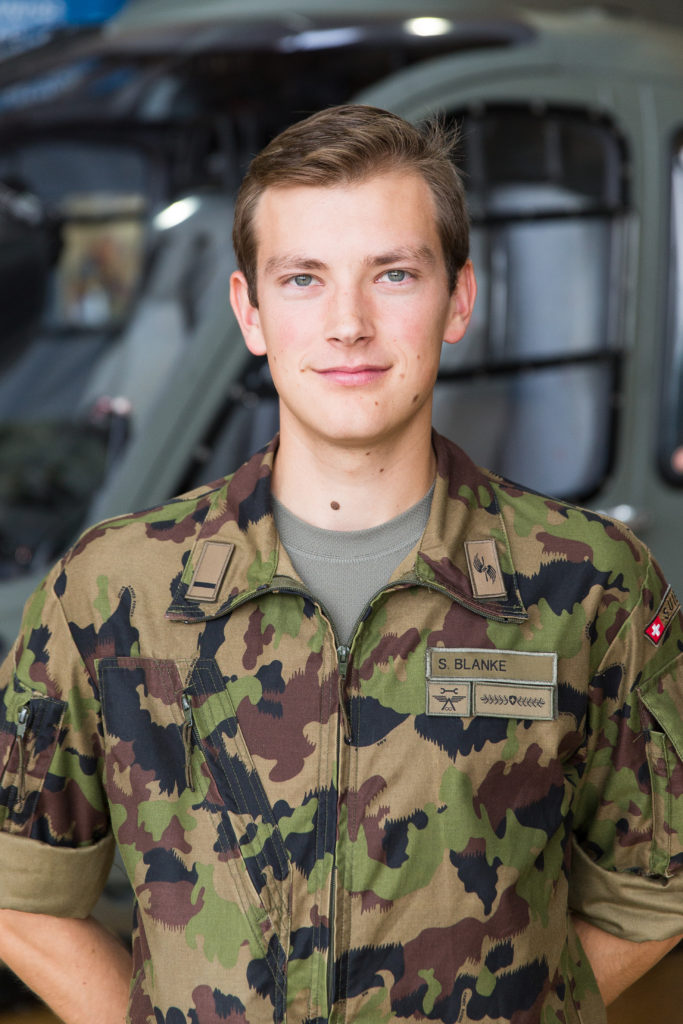 To be able to fly a military aircraft, aspirants have to go through a tough selection process. Eventually only a fraction of the applicants will be able to call themselves pilots. One of these people is Sebastian Blanke, Lieutenant of the Swiss Army, currently an aspirant to becoming a pilot. He shares his experiences exclusively with Leonardo Times.

As a child, many people have the dream of becoming a pilot. I wasn't any different. Huge, complex, and fast technical systems like airplanes always fascinated me. As I grew older, the dream grew with me. Finally, at the age of seventeen, I decided to pursue my dream and try to become a pilot of the Swiss Air Force (SAF).
The very first step on the journey to the cockpit is SPHAIR. It is the platform of the SAF, which offers every Swiss citizen between the ages of 17 and 21 an opportunity to start a career in aviation, irrespective of their financial or cultural background. Not only the SAF, but also many civil aviation companies support and fund this platform. Enrolment consists of two steps:
The first step is a one-day screening where mathematical skills, memory tasks and three-dimensional imagination as well as various other aspects are being tested. The second step of the SPHAIR-program is a two-week practical flight course, where one can display his talents in flying a single-engine piston aircraft in the shortest possible time.
This was my first hands-on contact with aviation. The pace of the course was very high and demanding; yet, after a few flights, I was able to take-off, fly and land a small aircraft all by myself.
Having passed the SPHAIR selection successfully, I applied as pilot candidate for the Swiss military, which is what around 100 young Swiss citizens do every year. Another two steps of the military pilot selection were carried out in the aeromedical center of the SAF and lasted three days. The first day, I had several long interviews with psychologists trying to learn everything about me and deem me suitable for the job. Funnily enough, afterwards I had the impression that they knew me better than I knew myself.
The next stage consisted of group tests; assessing my social abilities. Finally a complete medical check- up was carried out. The second last hurdle that separated me from my dream job was an intense five-day testing phase in a simulator where my performance and coordination abilities under stress were assessed.
In order to have a military basic formation, every future pilot has to undergo an officer education, just like every other officer in the Swiss Army. We were not only taught tactical and strategic thinking, but also took responsibility for men and material. I served as an ammunition officer at the ground troops of the SAF.  When my pilot class met for the first time after the ground training, it turned out to be a mix from all different divisions of the Swiss Army.
Having finished my fourteen-month officer education carrying the rank of a lieutenant, I and fourteen others were admitted for the long awaited last stage of the selection on the air base of Locarno in southern Switzerland. Within four weeks and thirteen flights, we were first trained on how to fly the Pilatus PC-7 and then were examined in five more check flights. During the first week, we learned a lot about the aircraft, the geography of southern Switzerland, basic flight maneuvers and of course the whole checklist. Studying was so intense; we literally recited the checklist in our sleep. After this theoretical week on ground, we were all eagerly waiting to take off with this beautiful bird for the first time.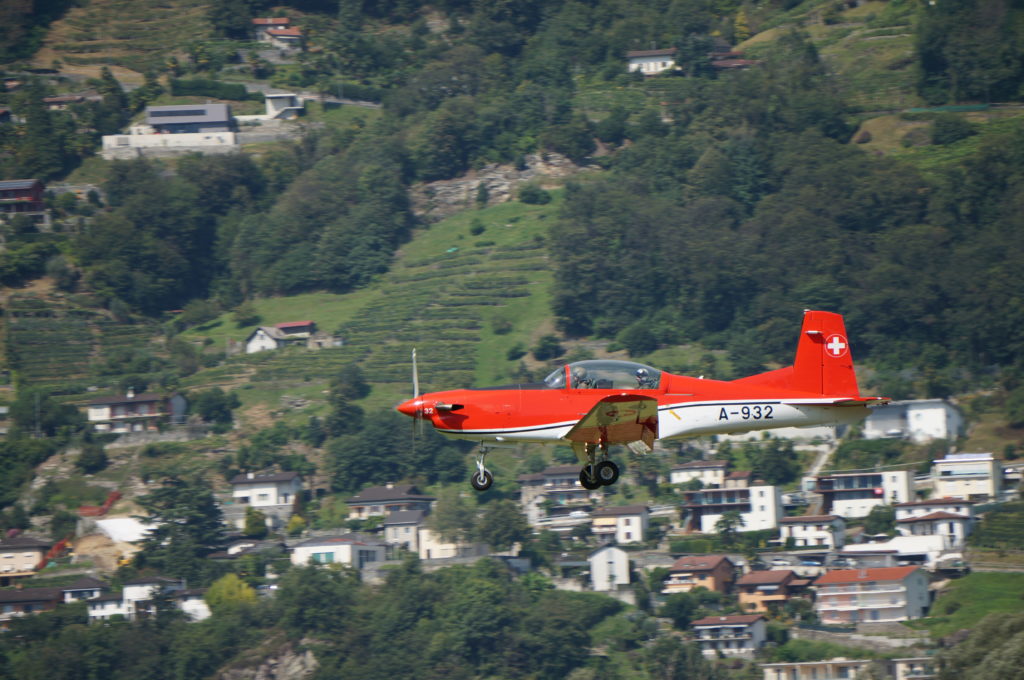 Flying the 550 horsepower, turbine driven PC-7 with a meagre background of only nine hours of experience on a Piper Warrior was simply overwhelming. The training started with basic flight maneuvers and was quickly extended with some aerobatics. Although this was the first contact with aerobatics for most of us, our stomachs handled the turns, rolls, loopings and the G-forces of up to four G's pretty well. Sadly, I was one of those whose stomach needed a bit more time to get used to this new sensation. Beside aerobatics, the flight program consisted of maneuvers like idle/zero flaps approaches, narrow turns, and navigation flights with high precision work and tricky extra tasks. After the five check flights with the examiner not saying or doing anything it was announced that eleven of us had been chosen to be trained as military pilots. From this moment on, I was proudly employed as part of the pilot class 13 in the pilot school of the SAF.
Currently, I am studying aviation engineering at the Zürich University of Applied Sciences (ZHAW) as part of my flying education. Here, all of us cadet air force pilots are studying "incognito" in civilian clothes alongside all the other engineering students, which creates many private contacts between future engineers, airline pilots, air traffic controllers, or aviation safety experts. This university offers the possibility of combining a Bachelor degree with a commercial pilot license (CPL/ IR/ MCC), something unique in Switzerland. This degree course not only gives you all the important basic technical tools you need as an engineer, it also covers a wide array of other topics. Subjects from aviation law over human factors to business process engineering are very helpful to keep an overview in the cross-linked field of aviation. The decision about who is going to become a helicopter pilot and who is going to become a fighter pilot is also taken during this period. It is based on the current needs of the air force but personal preferences will be respected, whenever possible. Once I have finished my studies and obtained the CPL in about three years, I will change from the civil part of the flying formation to the military one.
The military flying formation will then be a two-year training course on the Eurocopter EC-635/ 135 for the helicopter pilots or on PC-7 and PC-21 for the future jet pilots. As part of the flight training comes a very important and intense phase of survival training. I was taught how to survive in different conditions on the ground i.e. after a crash or after being shot down and how to survive in my inflatable life raft after a landing on water. On graduation as a military pilot one will get his "wings" and will be integrated in the squadrons, training on the Eurocopter AS 532 "Super Puma", or on the Boeing F/A 18 C/ D "Hornet". As a military pilot with the SAF, your daily work consists of air defense and air policing training missions for jet pilots and of air transports, search and rescue (SAR), or firefighting missions for helicopter pilots.
As you know by now, with this rather demanding job profile, one has to pass many hurdles and overcome many challenges to finally sit in a cockpit of a SAF aircraft. The rewards however, are worth it all: The cockpit and plane become an extension of you. It's probably the closest you can be to being part machine. The plane is your body but you are the brain. You will discover your personal limits and, with the support of your fellow colleagues, push them even further. As anyone who has flown himself knows, flying is more than a job; it is passion, freedom and desire. For me, it is the best job in the world.
[envira-gallery id="662″]