Low cost vs Legacy carriers
Since the advent of low cost airlines in European Skies, the Airline industry has seen fierce competition. On point-to-point short haul flights, low costs carriers have bled legacy carriers dry. On long-haul services, these same low costs operators are breaking their teeth trying to enter a market, which is owned mostly by well-established legacy carriers.
The European aviation market is a very dynamic environment. It is composed of a multitude of airlines, most of which are old national flag carriers, challenged by their own lack of flexibility and new low cost airlines. The sky is littered with failed airlines such as Sabena or Swissair, faltering airlines such as Corsair, AF-KLM, Alitalia or Lufthansa, and flourishing airlines such as Iberia or Ryanair. Contrarily to common perception, most flag carriers are not facing doom or have been defeated by low cost carriers yet. Their respective governments politically, and sometimes financially support them. However, their positive prospects are mostly due to their own upcoming difficult restructuring, c.f. Iberia, Lufthansa and Air France-KLM. Recently, oil prices have dropped leading to large reduction in costs for most airlines (though some of them couldn't benefit due to long term hedging commitments). Finally, most European airlines have large orders for new fuel-efficient aircraft that should help to further reduce their overall costs in years to come.
Iberia and IAG
The most spectacular turn-around of the past years in the airline industry is in the case of Iberia. In two years, the company that had previously lost more than $1 billion over a five-year period, posted a profit in the first nine months of the year 2014. This came at heavy cost for the employees of Iberia. A massive restructuring plan, the "Plan de Futuro" intended to cut a lot of jobs. The plan further implemented salary reduction across the board and massive lay-offs. It was accompanied by the replacing of the most fuel inefficient aircraft used on the trunk routes such as the A340-200, the introduction of new fuel-efficient A330, and the upcoming A350, for which the deliveries will start in 2015. Finally, the company introduced new products, reduced fairs, and focused their product to their area of expertise: South America.
The airline turned Madrid Barajas airport into their hub and the European (and Chinese) gateway to the southern continent. Until now, Europe remains the most used route to South America for Asian airlines. Iberia is now using its short-haul subsidiary Iberia Express to redirect all flights to Barajas and direct passengers to Europe's largest airline to South America. Thanks to these strategies, Iberia is retaining a 42% capacity share in Madrid for hub operations. Iberia is also battling successfully against Ryanair in Madrid for domestic operations by providing differential price products on Iberia express and using another IAG subsidiary Vueling, the low cost arm of the group. Vueling and Iberia combined accounted for 55% of the domestic capacity in 2014 in Madrid leaving Ryanair at a meager 18% share in fourth position behind Air Europa.
Ryanair's influence on legacy carriers
Although Ryanair has to fight hard to win over Madrid Barajas, it has had a very large impact over the last year on all legacy carriers throughout Europe. Ryanair has quickly become the biggest European low-cost airline. It is now operating an all Boeing 737-800 fleet of three hundred aircraft with three hundred additional orders, including 100 Boeing 737 MAX 200 as a launch customer. Ryanair transported over 81.7 million passengers in 2014, a growth of three percent year on year. But it was not always such a smooth ride for Ryanair. A few years back, the company was navigating through one of its biggest crisis in its history. Headline news covered incidents such as the company refusing to change a man's ticket even though his father had died, or Ryanair refusing to refund a passenger ticket as he had died "too soon" before the flight. Ryanair also got itself in trouble in France where the airline was fined heavily for giving Irish contracts to its employees at its Marseille base.
After a strategy reversal  from the top management of Ryanair, the company introduced a large overhaul of its customer relation reducing fees for additional bags, retraining flight crews, and introducing new business oriented packages (priority boarding, free airport check-in etc.). Ryanair has also been know to operate from remote airports to limit their airport fees – think Paris Beauvais which is more than one hour from Paris by bus. Recently, Ryanair launched several routes from Brussels National Airport, which is significantly closer to Brussels than the so-called Brussels South Charleroi Airport. This was both due to Brussels National airport doing its best to attract Ryanair and by Ryanair trying to attract more business travellers trying to land as close as possible to Europe's capital.
This year, Ryanair announced a large expansion of its bases. It recently opened bases in Berlin, Copenhagen and Bratislava. By now, Ryanair operates on 72 bases across Europe with a dense network of 189 destinations. Finally, Ryanair has started to consider establishing a base in Amsterdam Schiphol or Lelystad when it expands. Ryanair then hopes to conquer one of the last European markets they left untapped with a current meager market share of around 4% in the Netherlands.
Long-haul low costs carriers
Low costs airlines are not succeeding everywhere though. Long-haul routes have remained a mystery for Ryanair and have become a burden for Norwegian Air Shuttle, another very large low cost airline operating predominantly out of Norway. Although Ryanair recently announced its upcoming offer for long-haul flights (backtracking on it days later), Norwegian has been operating low cost long-haul flight based on its brand new B787-8 out of its Irish registered subsidiary to the North American market and Thailand.
One of the first companies to attempt low costs flights was Air Asia X, which tried to bridge the gap from Asia to Europe using cheap flights. It ended pretty badly and Air Asia X discontinued all its flights to Europe. Oasis Honk Kong Airline suffered the same fate. Air Asia X is currently trying to restart its entire program using more fuel-efficient aircraft such as the A330neo for which they placed 50 orders. Norwegian is attempting the same feat and is, so far, having the same luck as Air Asia X. This year marked the first year the Norwegian company was in the red, weighed down heavily by its new loss making company.
Norwegian Air Shuttle is having a hard time on long-haul services for several reasons. The first is what legacy carriers are notoriously known for: hub operations. Norwegian, like most low costs airlines, does not have a feeder network for its long haul operations. It is therefore having hard time filling its planes, which are significantly larger than short haul B737. Furthermore, to establish proper service to its destination, the airline must have a regular schedule to the cities it serves which makes it even harder to fill the planes to load factors comparable to profitable short haul operations. This problem is there to stay although a solution would be to build feeder networks or to invest in small narrow body aircraft such as the planned A321neoLR or the rumored B737-8ERX. These aircraft can carry significantly less passengers while allowing airlines to bridge the East coast of the United States to Europe.
Norwegian Air Shuttle is also weighed down by other factors. The first is that most long haul flights land at International airports with high landing and airport fees. This is because night noise restrictions are much lower in such airports compared to smaller airports, where some night flights are forbidden. Furthermore, they also have to face increase in crew costs that have to fly at night or stay overnight in distant cities, not able to return home before the end of their shift. These costs have a significant impact on profitability. This of course does not mention the fact that some passengers are not prepared to spend 12 hours on flights without access to any food (without additional fees), and with extra luggage fees in often referred to "cattle" class seating arrangements.
Legacy carriers
It is not on long-haul flights that legacy carriers feel threatened by low costs airlines like Norwegian Air Shuttle and Ryanair. It is on short-haul point-to-point operations that they have done most damage. This is the case for KLM, Air France, or Lufthansa, and before the restructuring, for Iberia as well. AF-KLM, and Lufthansa are particularly touched by the expansion of low cost carriers. Recently, these three carriers have been in the news for the unprecedented strikes disrupting their activities. For Air France, these strikes stem from the "Transform 2015" plan while for Lufthansa, it came from the "SCORE" restructuring plan.
France is notoriously known for its strong unions but recently Lufthansa has been dealing with even more strikes. These numerous strikes pit the pilots against the company's need for restructuring. The company is asking to raise the retirement age of pilots and to reduce their benefits after they retire. The company has, so far, refused to yield as it sees this restructuration plan as vital to its effort to remain profitable although the strikes are costing millions. For Air France, the two weeks historic strike in October 2014 has managed to keep the company in the red for its 2014 activities with an estimated loss of 500 million euros just due to the strike. This was a large dent in Air France's results that would have been positive, if not for the strike. KLM on its side remained marginally profitable.
The Transform plan for AF-KLM is also badly received by the unions. The main point of discontent, besides dismissing close to 2,800 employees, is Transavia France, the new low cost arm of the company. This subsidiary was designed to counter the rise of Ryanair, EasyJet, Vuelling or Norwegian, albeit a little late. AF-KLM aims at replacing point-to-point flights on the legacy carrier main airlines (Air France and Hop!) and moving them onto Transavia. This would see a growth of Transavia on point-to-point travel by 120% from 2012 to 2017, while leading to a reduction on Air France and Hop! by 40%. The main reason behind this strategy is that AF-KLM is only making money on long haul operations and wants to keep its short haul flights mostly for hub-feeding operations (Figure 1).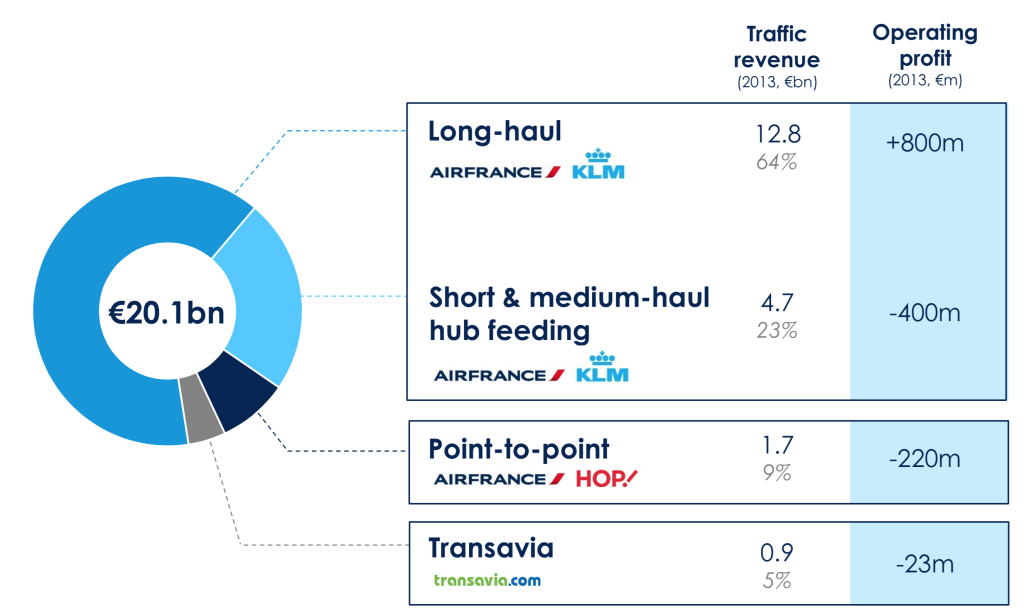 Transform 2015 called for the larger growth for the French arm of Transavia (the Dutch Transavia is already comparatively well developed), and with it, the new contracts for the pilots. The pilots assigned to the low cost company would receive much lower benefits than their colleagues in Air France or Hop!. Transform also plans on the opening of bases around Europe for Transavia similarly to Ryanair. This has also become a point of friction between the airline management and unions as the unions are accusing the airline of planning to open bases in countries where benefits are significantly lower (E.g. Portugal and Czech Republic).
Lufthansa has a similar strategy to AF-KLM. It is important to remember that Lufthansa remains Europe's largest airline and owns airlines such as Swiss, Austrian or a large part of SN Brussels Airlines. Most importantly, Lufthansa owns its own low cost carrier: Germanwings. The problems in Germany are similar to those at AF-KLM. Lufthansa wants to significantly expand the operation of its low-cost subsidiary, which would mean contract renegotiations with the pilots and other personnel. This has led to over ten strikes in 2014 and so far in 2015 more than 2 one-day strikes. Current benefits for Lufthansa pilots are for example the right to retire at 55 and to retain a large part of their salary until their official retirement at age 65. Lufthansa is pushing to raise this retirement age. Lufthansa is also trying to build Germanwings in small entities spread around Europe to avoid large union formation that could threaten its profitability when restructuring is required.
Competition from UAE
The bleak picture painted above for both AF-KLM and Lufthansa is not all that the airlines fear. Beside the low-cost front, there is the long haul competition from the Middle East: Qatar Airways, Emirates and Etihad Airways. These three companies have seemingly endless pockets allowing them to grow at never seen rates and conquering most of Europe's destinations. Beside this, the big three can also use to their advantage the Open Skies agreement. This allows the big three to stop in Europe for refueling and continue onwards to the United States; providing a direct threat to all European legacy carriers. Emirates is already doing so through Milan to New York.
Beside the threat of losing market shares, Qatar is slowly buying in European airlines. Qatar Airways owns significant shares in Alitalia, Air Berlin and recently bought a 10% share into IAG, which is the owner of Iberia and British Airways. This could have an impact on the European market and Qatar could establish more operations at both London Heathrow and Madrid Barajas. The impact of these investments is yet to be seen.
The financial side
All is not doomed for European legacy carriers. The current dip in oil prices has helped relive the pressure on most airlines, although some of them lost a lot of money due to hedging practices. As the oil prices is stabilizing at a much lower point than it was just a year ago, airlines' main cost factor is about to decrease sharply. This is allowing more leeway on their restructuring and maybe softening the blow. Besides this, most European legacy carriers are heavily investing in new generation aircraft that are much more fuel-efficient. The A340s are being phased out across Europe and so are the older B747s. KLM recently retired the MD-11 for similar reasons. AF-KLM, Lufthansa, Iberia, British Airways all invested in the newly built A350 and B787, allowing them to open longer routes with much more fuel-efficient aircraft.
Consolidation
It is hard not to remember what happened in the United States a few decades back, and which continued up to last year. The United States airline sector was busy with hundreds of airlines: small and big fighting for survival. After years of struggle consolidation, and Chapter 11 episodes, the United States has been left with only three major airlines: American Airlines, Delta Airlines, and United Airlines.
Considering the ongoing churning in the European aviation market, it is hard to expect anything but the same in Europe considering the way industry matures. But Europe is different from the United States. One of the biggest differences is the omnipresence of states in legacy carrier affairs. A lot of countries want their own legacy carriers to keep on carrying the name of the country they represent. Furthermore, other elements as simple as languages differences can show that inter-country solidification might not be the best way onwards. The differences between Air France and KLM have been caused, in some parts, by the language difference between the two companies, the French being notoriously reluctant to speak in English. This has caused unnecessary friction in a company busy restructuring itself. These problems are however not known to be an issue within the Lufthansa group. Could this be because Austrian, Lufthansa and Swiss all speak German? What will happen in the coming years could very well define the future for European Airlines. The impact of the different restructuring plans will give some insight on what to expect and whether we can expect the downfall of some of the largest legacy carriers for better or for worse.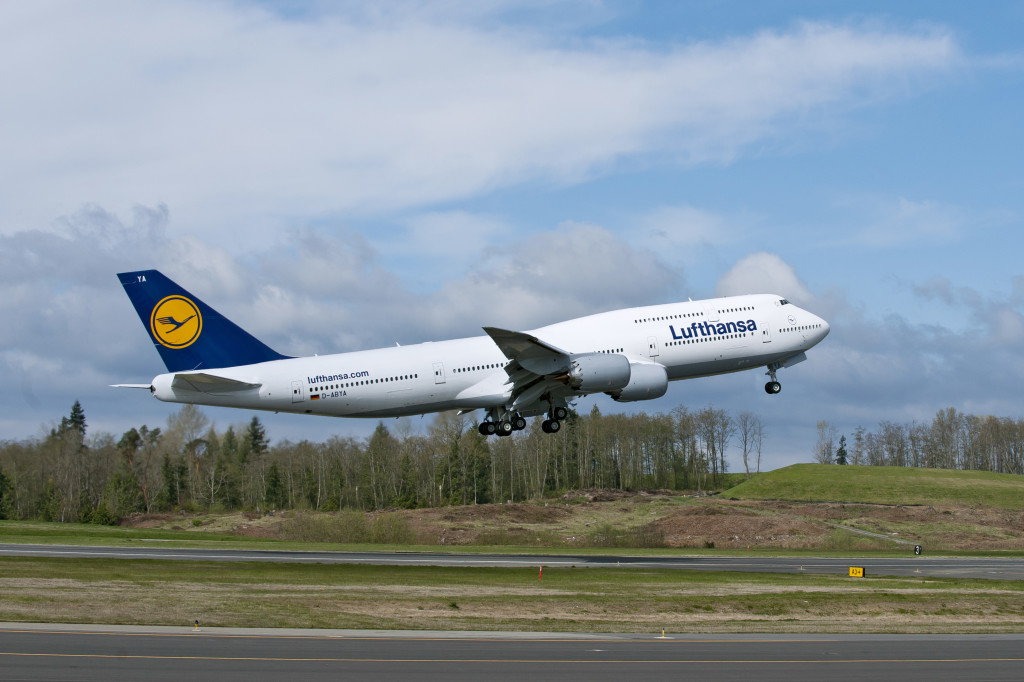 [author]  [author_info]Raphael Klein[/author_info] [/author]