Last week, Embraer's E190-E2 took to the skies several months ahead of the internal schedule, making it the only new airplane program in recent history to be significantly ahead. The E2 is Embraer's entry into the next phase of the E-Jet development being powered by Pratt & Whitney's GTF engines. A gearbox located within the shaft of the engine permits the compressor to run at a different regime than the fan. Conventional turbofans have both components attached to each other, and hence, running at the same velocity. The GTF engine allows for them to be dissociated and operate at their optimal speeds. Consequently, the turbofan consumes 15% less fuel, pollutes less, and is 75% quieter. In addition to its propulsion system, the airplane has new wings, a new empennage, enclosed main gear, a digital Fly-By-Wire (FBW) and other improvements over its predecessor now called the E1.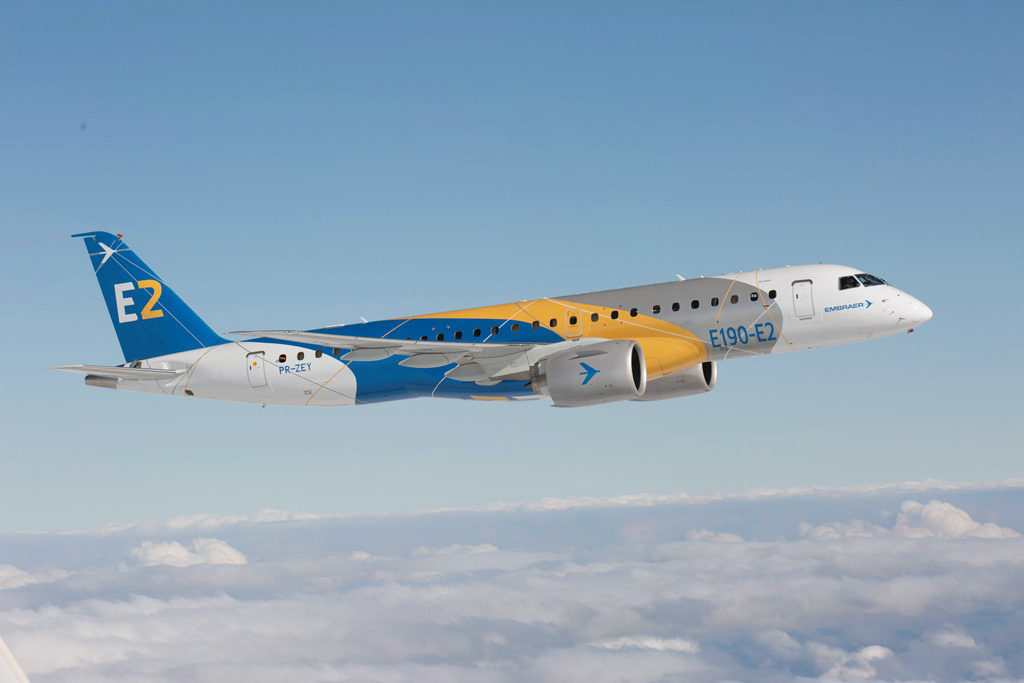 A primary concern when testing at higher speeds and altitudes is the flutter risk that can cause potential damage to the wing and empennage. However, the successful first flight portrayed a high confidence in the aerodynamic and structural design of the aircraft as well as the maturity of the FBW system.
The E190-E2 is scheduled to enter service in the first half of 2018. The larger E195-E2 will follow in a year, and the smaller E175-E2 a year after that. For further reading and pictures, head on over to Aviation Week.
– N. Ruitenbeek